Hosts Ben McKenzie, John Richards and Petra Elliott discuss Peter Davison and fear in Doctor Who in the fifth (well, okay…seventh) live Splendid Chaps episode, recorded at the Public Bar in Melbourne on May 19, 2013, and rushed to your ears in a fraction of the usual time! (You may find it a bit rougher around the edges than normal…) Our guests this month are comedian and actor Tegan Higginbotham (Watson) and horror writer Narelle M Harris, plus musician Georgia Fields performs a cover of Bullamakanka's "Dr Who is Gonna Fix It"!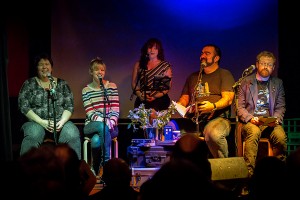 Podcast: Play in new window | Download (Duration: 1:10:33 — 32.4MB)
Subscribe: Apple Podcasts | Android | RSS
To make sure you don't miss an episode, subscribe to the podcast in iTunes or via this Feedburner feed.
Don't forget you can go into the draw to win a (Region 4) DVD copy of The Visitation (Special Edition) by commenting on this episode below! Tell us whether Davison's Doctor was bland, what you really think of Adric and Nyssa, share the scariest moments you can remember or just tell us what you thought of this month's show. Comment by June 14 to be in the running, and we'll announce the winner at the recording of Six/Clothes on June 15.