Hosts Ben McKenzie, John Richards and Petra Elliott discuss the Paul McGann telemovie, and then bring in guest scientists Jack Scanlan, Alan Duffy and Allie Ford to talk science in Doctor Who as part of National Science Week! It's the eighth live Splendid Chaps episode, recorded at Bar Open in Melbourne on August 11, 2013. Plus prizes, Ben's scrapbook, the secrets of lab coats, audience questions and Hannah Pelka-Caven performs a haunting version of the song shared by the Seventh and Eighth Doctors in the telemovie, "In A Dream".
Podcast: Play in new window | Download (Duration: 1:17:00 — 35.3MB)
Subscribe: Apple Podcasts | Android | RSS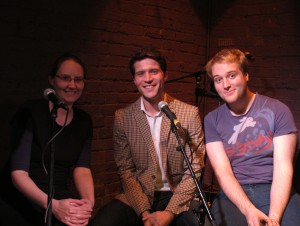 Don't forget you can go into the draw to win a CD copy of the Big Finish Eighth Doctor audio adventure The Chimes of Midnight by commenting on this episode below! Do you love the telemovie? Are you part of the Paul McGann Estrogen Brigade? What are your favourite – or least favourite – bits of science in Doctor Who? Comment by September 14 to be in the running, and we'll announce the winner at the recording of Nine/Women on September 15.