Hosts Ben McKenzie, John Richards and Petra Elliott discuss Jon Pertwee and Doctor Who's representation of "Family" in the third live Splendid Chaps episode, recorded at the Tuxedo Cat pop-up venue in Adelaide on Sunday, March 10, 2013. With special guests Cathy Adamek and Sean Williams, plus Tim FitzHigham recreating a classic track from Doctor Who music history, and Adelaide-based a capella group The Con Artists performing a beautiful combo of Doctor Who music, "I Am the Doctor Who Theme".
To make sure you don't miss an episode, subscribe to the podcast in iTunes or via this Feedburner feed.
Don't forget you can go into the draw to win a (Region 4) DVD copy of The Ambassadors of Death by commenting on this episode below! Tell us what you think of the Pertwee era, come up with other interesting family moments in the series, or just let us know what you thought of this episode. Comment by April 12 to be in the running, and we'll announce the winner at our second Four/Comedy recording on April 13.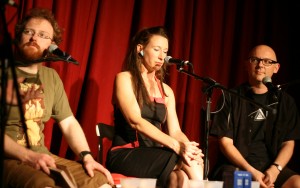 Podcast: Play in new window | Download (Duration: 1:14:05 — 34.0MB)
Subscribe: Apple Podcasts | Android | RSS