Hosts Ben McKenzie, John Richards and Petra Elliott discuss Patrick Troughton and the nature of "Evil" in the second live Splendid Chaps episode, recorded at 303 in Melbourne on Sunday, February 17, 2013. With special guests Toby Truslove, Dr Djoymi Baker, and Dean Acuri performing a tribute to one of the Second Doctor's lovely companions.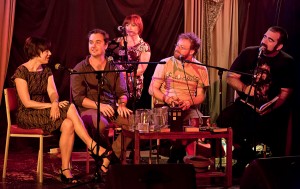 Podcast: Play in new window | Download (Duration: 1:07:13 — 30.9MB)
Subscribe: Apple Podcasts | Android | RSS
To make sure you don't miss an episode, subscribe to the podcast in iTunes or via this Feedburner feed.
Don't forget you can go into the draw to win a copy of The Reign of Terror by commenting on this episode below! Join in the conversation on Troughton's era, discuss the way evil works, or just let us know what you thought of this episode; write your comment before March 9 to be in the running, and we'll announce the winner at the recording of Three/Family on March 10.